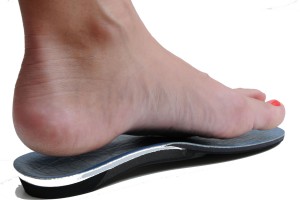 Custom orthotics are, a pair of, custom insoles made from a 3D cast of your feet that can be discretely inserted into shoes to support, align or accommodate foot deformities or poor biomechanics. Orthotics work to reduce stress/strain on ligaments, tendons, muscles, bones and nerves. Orthotics can improve athletic or on the job performance by correcting poor alignment of the lower limb and decrease strain on the feet and legs by improving shock absorption.
Orthotics are not just for pronators (arches that roll in) or flat feet. Plantar fasciitis, bunions, metatarsalgia, Morton's neuroma, arthritis, tibialis posterior tendon dysfunction, Achilles tendonitis, biomechanical hip, knee or low back pain are just a few of the conditions that can be alleviated or assisted by the use of custom orthotics.
Both Dr. Emmalee and Dr. Tricia are very experienced in gait analysis and orthotic prescription. Digital gait analysis, visual gait analysis, biomechanical assessment and 3D casting are used by the practitioners at Active Chiropractic & Massage Therapy to create custom orthotics.